Desktop Annealing・Nitriding Treatment Equipment

This model enables the film to be reformed by the heat treatment of a wafer in a vacuum.
SAN1000
Pressure control during heat treatment (annealing) to the substrate and heat treatment by introducing inert gas is possible.
POINT
Even when in N2 or Ar gas introduction, the rapid and uniformity heating can be done up to 1000℃.
Rapid cooling is possible without blowing a substrate.
Space saving.
Outer dimension (Main unit)
W582mm×D450mm×H411mm
Heating control
Vacuum pressure
Combination
200℃〜
1000℃
≦10Pa
✖
Outline・Application
SAN1000 is the annealing system which can carry out the heat processing by applying an infrared radiation onto substrate up to 4 inches in a vacuum or in a clean environment with vacuum gas atmosphere.
This is the table top type compact size batch system which can allow you to take out the substrate within a short period of time after the treatment due to its excellent cooling mechanism of chamber and gas flow.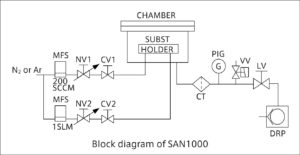 Feature
【Feature1】Heat treatment method
Substrate heat treatment is possible in the chamber in vacuum condition using the dry scroll pump. In addition, heat treatment can be performed in various vacuum gas atmospheres by adjusting the flow rate with a needle valve. The flow rate can be adjusted with good repeatability by the mass flow monitor.
【Feature2】Diversity
Rapid temperature rise from 200 ℃ to MAX1000 ℃ is possible.
【Feature3】Even Heat Treatment
The heat treatment is possible evenly within ±1.5% for the heat distribution at 800℃ on 4 inch substrate .
【Feature4】High Speed Cooling
Water cooled cold wall structure and substrate cooling gas mechanism realize the high speed cooling.
【Feature5】Others
This is the desktop type compact annealing system.
Performance
【Feature1】Better Temperature Control
A better temperature control is possible using the optimized PID algorism.
【Feature2】Better operability
After the confirmation of gas flow rate and cooling water flow (with interlock), simply press the heating button and the process can be performed automatically according to the pre-set heating conditions. With the cooling mechanism, substrate can be quickly taken out after the treatment and the next performance can be continuously arranged in a short time.
【Feature3】High Level of Safety
A whole chamber is water cooled and various interlocks for vacuum exhaust, heating and cooling water amount, etc. are equipped with this model.
SAN1000 Specification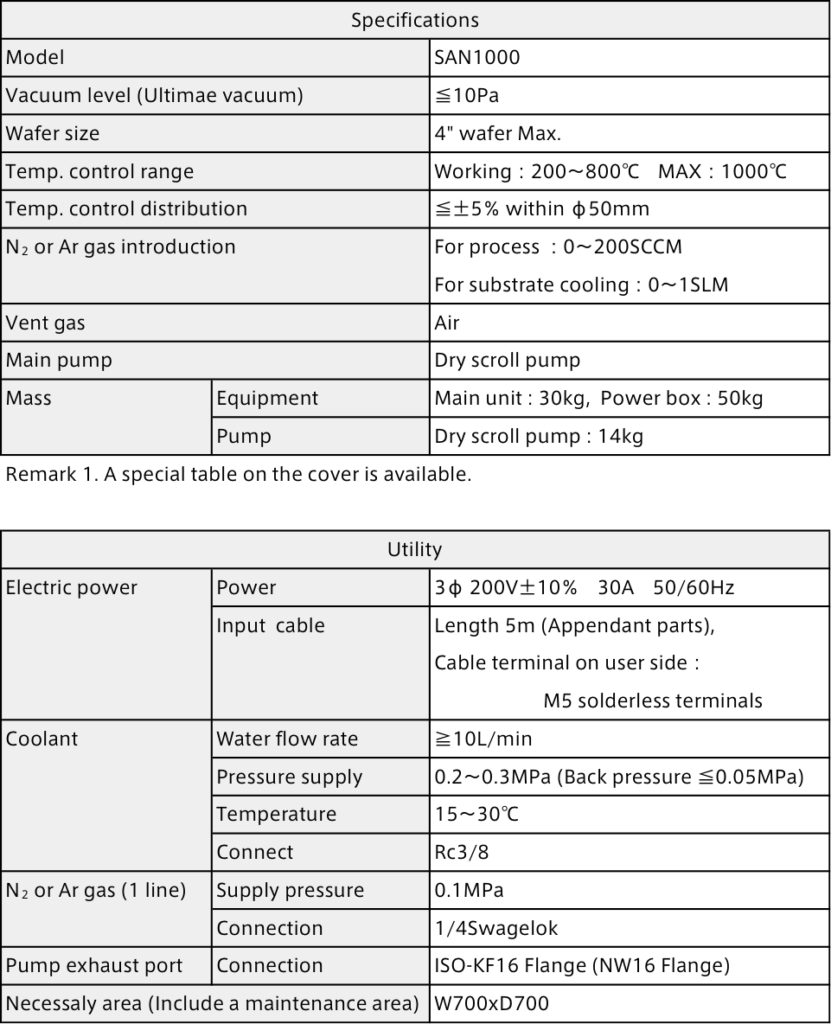 SAN1000 Outer dimension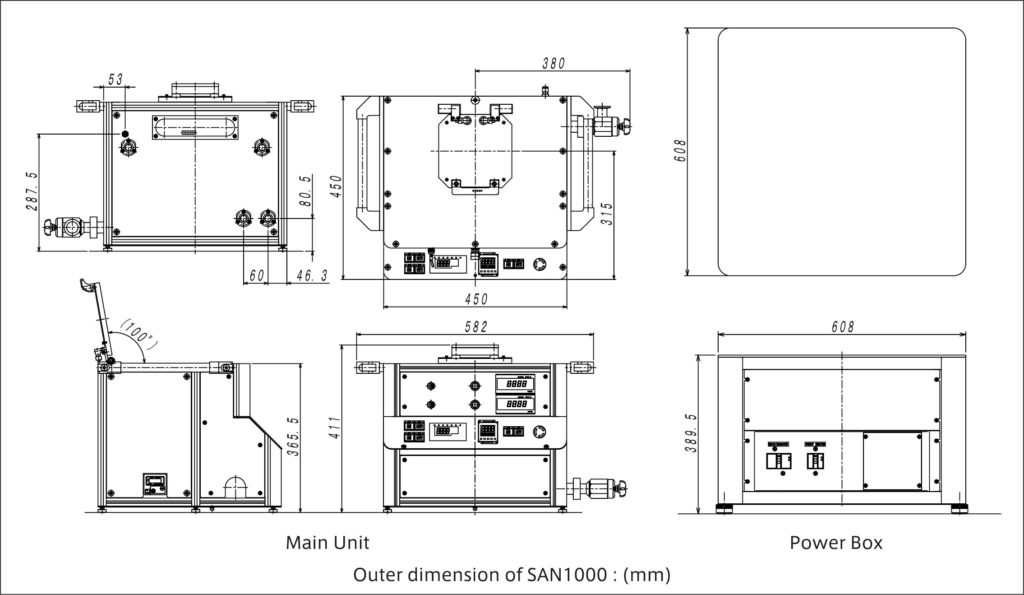 MAINTENANCE
Please contact us for repair and modification of our systems.