Spark Plasma Sintering (SPS) System

SPS system enables you to obtain sintered compacts with high quality (better properties, better homogeneity, etc.) by applying pulsed DC current directly onto powder / molds, while they consider materials difficult to sinter with conventional sintering methods.
SPS2000
This model is the best for R&D in University/Research institute.
The process can be very quick and it requires only a small amount of powder so you can try many different things in a short time at low cost.
POINT
Super small footprint
Fast vacuum speed
Our original functions installed
Outer dimension (Main unit)
W750mm×D1250mm×H1700mm
| SPS Temperature | Sample Size | DC Pulse Generator | Max. Pressure |
| --- | --- | --- | --- |
| RT - 2500℃ | φ5 – 30mm | 1000 - 3000A | 30 – 70kN |
Smart SPS process
SPS(Spark Plasma Sintering)/PECS(Pulsed Electric Current Sintering) is the unique material synthesis technology (sintering/bonding/surface treatment, etc.) which has attracted attention over the years due to its high quality outcomes with energy/time saving features for R&D/production of advanced materials, such as composite material, advanced metal material, advanced ceramic material, magnetic material, FGMs(Functionally Graded Material), etc.
This technology enables you to obtain sintered compacts with high quality (better properties, better homogeneity, etc.) by applying pulsed DC current directly onto powder / molds, while they consider materials difficult to sinter with conventional sintering methods. As a result, it gives you a greater flexibility on material design. With that said, SPS (PECS ) has been widely employed in various areas of thermoelectric, magnetic and functional materials, etc. used for mechanical parts and parts for automobile / air craft which are expected remarkable breakthrough in the area of energy and environment.
SUGA offers Hybrid material synthesis systems combined SPS with our original brand product of powder surface treatment system. "Smart SPS process" brings you a new era for your further improvements than ever.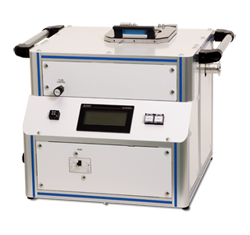 SAL1000(Atomic Layer Deposition System)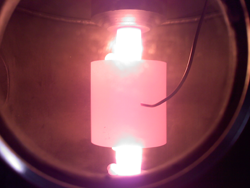 Cool SPS System
SPS (Spark Plasma Sintering) is also well known as PECS (Pulsed Electric Current Sintering) and this is one of the solid compression sintering technologies which apply high energy densifying process.
This new material synthesis technology can successfully synthesize and achieve higher quality/performance by applying Pulsed DC current effectively on specific desired area on the sample which has never been seen on other conventional methods such as Hot Press (HP), Hot Isostatic Pressing (HIP), Pressureless Singeing (PLS), etc.
This is characterized by a high degree of time/energy saving and it can apply to various material synthesis processing such as sintering, bonding, synthesis, surface treatment, etc. at room temperature to over 2000 degree C.
It depends on the quality of the material, particle size/shape and/or condition of the powder surface but electric discharge can be observed between the particles and such areas are occasionally activated by the state of plasma.
This derives form the name of "Plasma".
In spite of the presence or absence of such discharge, synthesis for materials with high quality and performance can
be possible with SPS, which has been drawing attention of many researchers since it is of wide application.
It is, therefore, considered as a material synthesis technology for new generation.
SUGA's "Cool SPS System" is now available in the market to derive the competitive advantages from SPS (Spark Plasma Sintering)/PECS (Pulsed Electric Current Sintering) technology.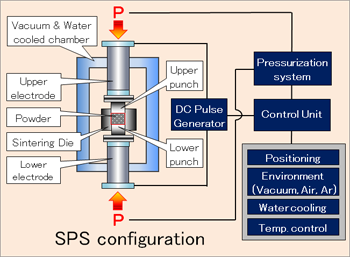 Advantages of SUGA's SPS system
(1) Applicable for wide range of new material development and production Capable to synthesize High polymer Material, metallic, Ceramics, Intermetallic compound, Composite material, etc. (Sintering, Synthesis, Surface treatment)
(2) No special knowledge/experience on sintering technique is required for material development.
Sintering conditions are freely/easily selectable and quality/performance of the sintered compact can be managed by changing the parameter. Desired quality/performance can be obtained by appropriate parameter settings.
(3) It is very effective for the development of new materials which have been difficult to fabricate by conventional technique.
Namely, high strength porous material, active metallic such as Al, Ti, etc., composite material (FGMs), high temperature material without additives, etc.
(4) It can control ON/OFF condition of Pulsed DC generator which leads changes on the status of cooling process by thermal diffusion and heating process on small area of the particle. Microstructure controlled sintering is possible together with the above mentioned wide range of selectable sintering conditions.
(5) Safe/user friendly design. It has various interlocks and user friendly touch panel control system which can assure you the safety on quick, large current, high temperature material synthesis experiments.
(6) Robust/reliable design. It is capable for long term continuous sintering under the severe conditions by applying know-how based on our experience on high temperature equipment.
(7) Compact/space saving design. It will fit into your limited space with easy access.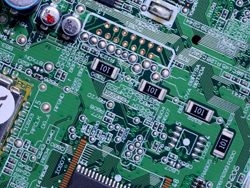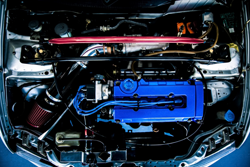 Target material for SPS
■ Metal
Li, Be, Na, Mg, Al, Si, Ti, V, Cr, Mn, Fe, Co, Ni, Cu, Zn, Zr
Zr, Nb, Mo, Ru, Rh, Pd, Ag, Hf, Ta, W, Re, Ir, Pt, Au
■ Ceramic
Oxide:Al2O3,Mullite,ZrO2,MgO,SiO2,TiO2,HfO2,ZnO
Carbide:SiC,B4C,TaC,TiC,WC,ZrC,VC,HfC
Nitride:Si3N4,TaN,TiN,AlN,ZrN,VN
Boride:TiB2,HfB2,LaB6,ZrB2,VB2
Fluoride:Lif,CaF2,MgF2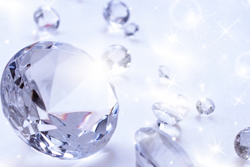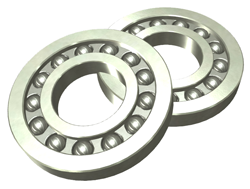 <p■ Composite FGMsSi3N4+Ni,Al2O3+Ni,ZrO2+Ni,Al2O3+TiC,Al2O3+ZrO2
SUS+ZrO2,Al2O3+SUS,SiO2+SUS,Ti+SUS
SUS+WC/Co,BN+Fe,WC+Co+Fe,SUS/CU
■ Intermetallic
TiAl,MoSi2,Si3Zr5,NiAl,NbCo,Nb3Al,B6Si
Sm2Co17,NdFeB,FeAl
■ Others
Organic material(ex. Polyimide)、Thermoelectric material、Dielectric、Optical functional material
Application development in practical use (Example)
1. WC/Co Diamond Cutting Blade
2. Wire Drawing Dies
3. Metal Bonded Diamond Grinding Tools
4. WC/Co Diamond Tools
5. Ceramic Nozzles
6. Aspheric Lens Glass Molding Dies (Binder less WC)
7. Al-Si alloy, Automobile Component (Piston head)
8. Al-Si alloy, Appliance Component (Scroll)
9. Ti-Al Exhaust Valve, Automobile Component (Intermetallic Compound)
10. IC Lead Frame Mold (WC/Co, Hard Metal)
11. Drawing Mold for Production of Can (Dry Battery)
12. WC/Co Film Slitter (Hard Metal)
13. Energizing Blocks for EDM Machine Parts (WC/Co)
14. Homogenizer Component (WC/Co, Ceramics)
15. Brake Disk Component
16. Spattering Target Materials for Semi-conductor, Hard Disk, etc.
17. ZrO2-Ceramics Gauge Blocks
18. Roll of Fe-Si alloy Component (For Printing)
19. Bearing Metal (Sinter Bonding)
20. Ceramics Tools (Composite Materials)
21. Plastic Mold Materials (Solid Phase Diffused Bonding)
22. Functionally Graded Materials (WC/Co, Hard Metal)
23. Transparent Ceramics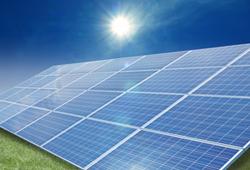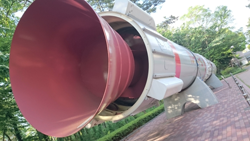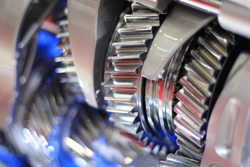 SPS2000 Specification
※Large equipment is also available. Please contact us for further information.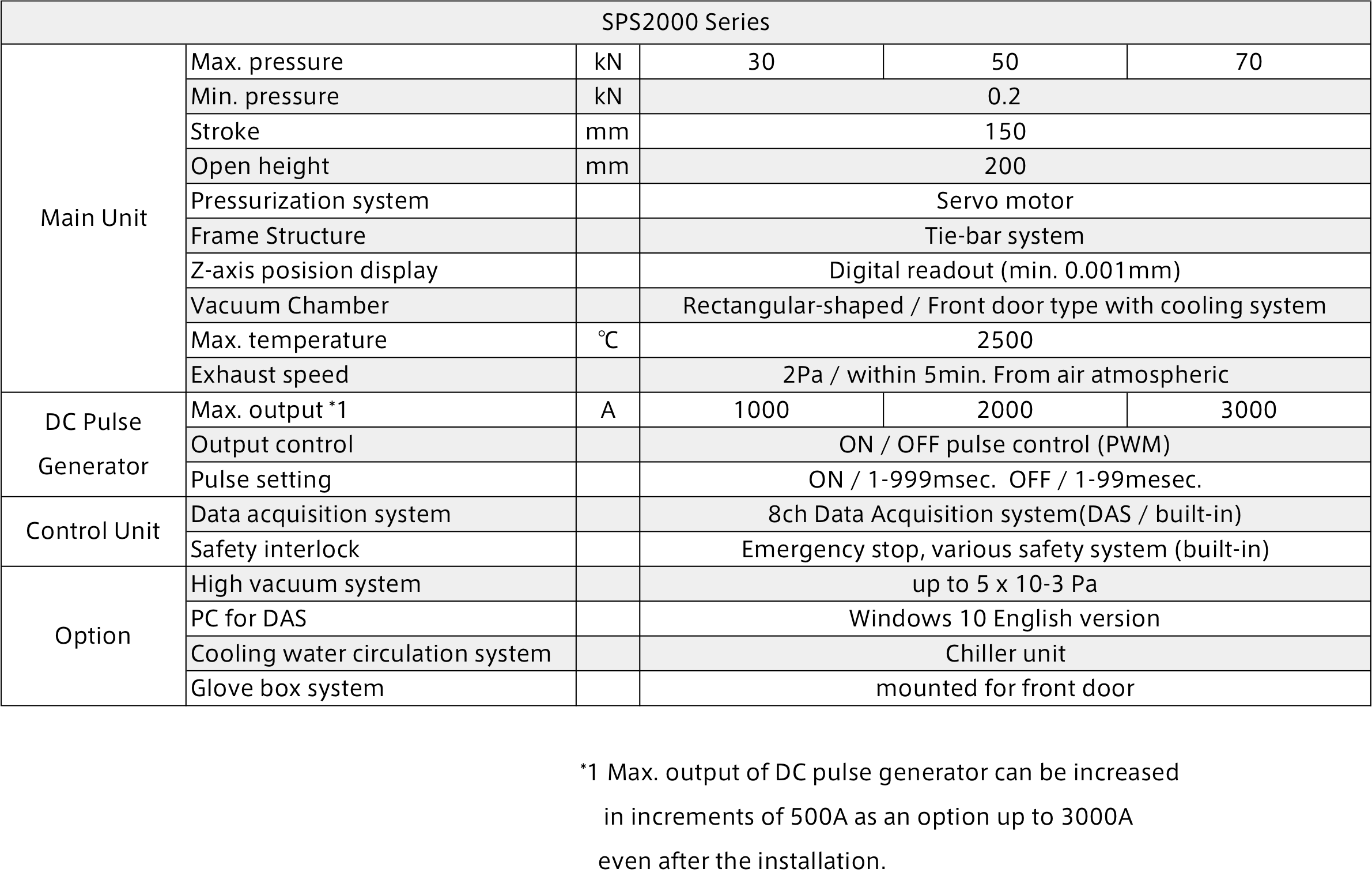 Please contact us for repair and modification of our systems.